---
Credit Card
Your Promotion Code is:

Urgent:

Act Now To Claim
9 Next Generation Crypto Tickers With 1,000% Profit Potential
***Apply Your $3,005 Discount Before It Expires***
Congratulations!
You're only moments away from claiming access to my 9 Next Generation Cryptos with 1,000% profit potential.
As you've just seen…
When Next Gen Cryptos uplist to Coinbase…
There's no telling just how high they could soar…
That explains why some of these top performing cryptos have thrown off total gains as big as 9,000% in 18 months…
22,000% in a year and a half…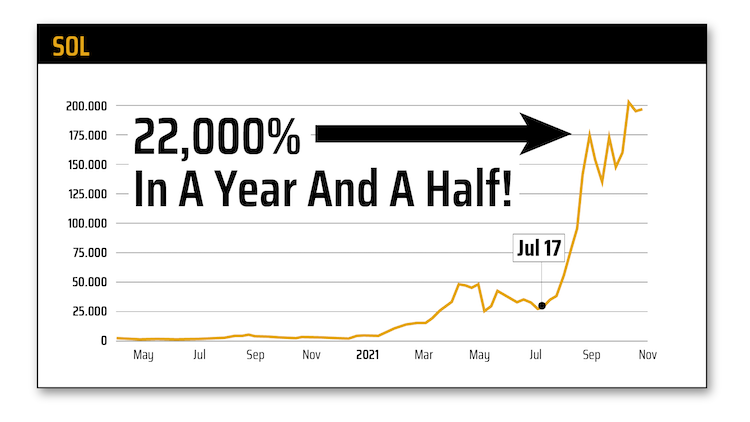 And 25,000% in 18 months…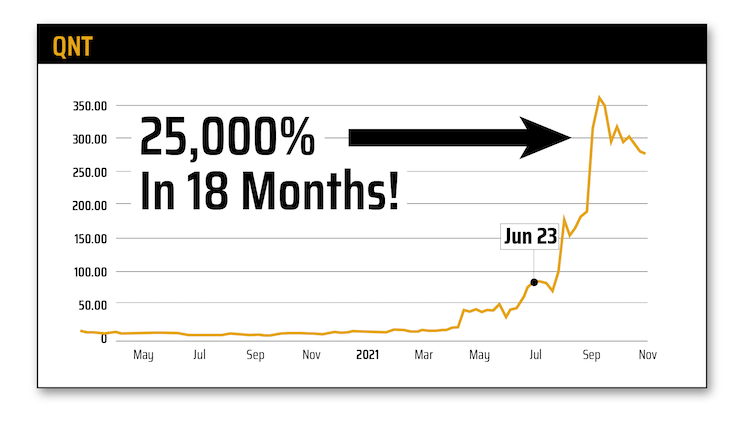 And while I can't guarantee you'll see returns like these…
This is essentially the same strategy that I used to land a 125X return in just 4 years.
And now, you have the exact same opportunity to tap into these Next Generation Cryptos for yourself.
Let me be crystal clear:
If you're still kicking yourself for missing the rise of Bitcoin and Ethereum…
Don't worry.
You're not too late.
You're in the right place.
And that's because Next Generation Cryptos are a brand-new ground-floor opportunity…
…a rare second-chance at life-changing crypto wealth.
It's just a tiny niche of the crypto market…
And yet, it's set to grow 9,900% over the next 5 years.
But as you've seen, these next gen cryptos can be explosive.
They move fast.
So there's no time to waste.
And to help you take advantage of this opportunity…
I'm inviting you to join my brand-new research service called, James Altucher's Early-Stage Crypto Investor.
My Early-Stage Crypto Investor is the only research service in the entire world that enables you to tap into my Silicon Valley connections…my Wall Street expertise… and my successful investing track record for finding early stage cryptos with massive upside potential… and a major catalyst on the horizon.
But just like the rise of Bitcoin…
The rise of next gen cryptos will only happen once…
Making it golden opportunity for ground floor investors…
That's why I want to make it as easy as possible for you to join me on this financial journey.
As a result…
I twisted my publisher's arm to get you a $3,005 discount that you can instantly apply to a 1-year subscription to Early-Stage Crypto Investor.
Logically, it follows you won't pay the normal published price of $5,000…
Or even $3,000 for that matter…
When you act today…
You'll only pay $1,995 for Early-Stage Crypto Investor.
That's 60% off the published price…
And comes out to a generously affordable sum of just $5.46 per day.
(That's less than the price of a coffee at Starbucks).
(Or, if you prefer, you can take advantage of a rare chance to claim 3 full months of access for just $595, and you'll automatically be renewed at that same low price every 3 months.)
But it gets even better…
Because I'm also giving you an industry-leading performance guarantee that virtually ensures your 100% satisfaction.
I'll tell you more about that in a moment, but first…
Here's everything you get when you jump on this special offer today: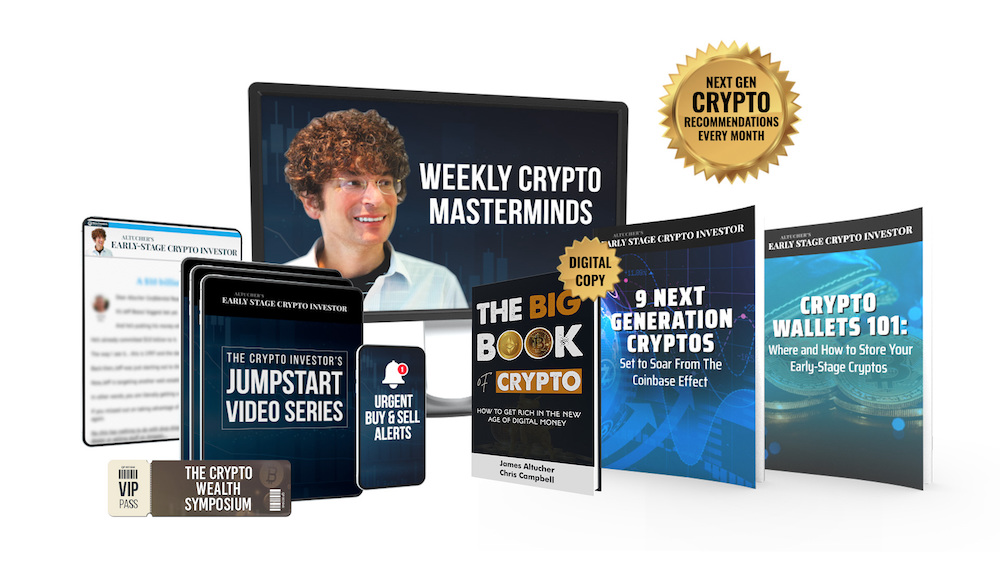 1-2 Next Generation Crypto Recommendations. Every month, you'll get my newest Next Generation Crypto investment ideas, accompanied with my written analysis and complete breakdown of the opportunity. I'll reveal the inner workings of the technology, the size of the market, and most importantly, the key reason why it's poised to hit a big catalyst in the near future.
Special Report: "9 Next Generation Cryptos Set To Soar From The Coinbase Effect". This detailed report gives you instant access to 9 cryptos set to list on Coinbase. You'll get the names and ticker symbols, along with the fascinating reasons explaining why these cryptos are primed to soar in the near future.
The Crypto Investor's Jumpstart Video Series. A carefully curated video series that shows you step-by-step how to buy my crypto picks, BEFORE they hit their big catalyst. This easy-to- understand video series is perfect for both new investors and seasoned crypto pros. You'll be up and running in no time, even if you've never bought a single crypto in your entire life!
Urgent Email Alerts And Text Message Notifications. I never leave my readers behind. That's why my team will send you an email alert (and if you prefer, a text message notification) whenever I issue a new buy recommendation, or whenever it's time to take profits. These copy-and-paste trade alerts enable you to enjoy my wealth-building ideas from anywhere in the world, no matter what's going on in your life. (Couldn't be any easier, too)
Weekly Crypto Masterminds. Once a week, I'll hop on a live video call with my readers and go over my investing gameplan for the upcoming week. Not only will I reveal my latest next gen crypto predictions, but it's also where readers get direct access to my ideas. And while I can't give out personalized investment advice, you'll be able to submit questions to my team about the world of crypto, our investing strategy, or even one of my picks. Whatever you want. Bottom line: this is where I take the time to help YOU to find huge opportunities in the crypto market.
Weekly Crypto Briefings. As you know, the crypto market moves at a lightning-fast clip. There's always breaking news to cover and new next gen cryptos emerging. As part of this elite research service, these weekly briefings will help you stay on top of the hottest crypto developments, so you don't have to dig through hundreds of crypto websites for yourself.
1 Digital Copy Of My New Book, "The Big Book Of Crypto." Clocking in at a whopping 257 pages and 51 chapters, this new book is jam-packed with a treasure trove of insights and ideas for building wealth with crypto, such as:
A secret crypto bank account that pays you 17.7% interest a year. Certainly beats the .06% interest offered by your average savings account.

How to buy Bitcoin at up to a 21% discount. Why pay full price when you can grab a massive discount. Perfectly ethical and 100% legal.

The secret website that gives away free daily bitcoin. You can take advantage of this loophole every 24 hours, and it only takes 60 seconds a day.
And much, much more!
1 VIP Ticket To "The Crypto Wealth Symposium." A private digital event, featuring none other than yours truly. I'll be sharing my latest ideas and strategies for making money in crypto. My publisher said he could easily charge $1,499 per ticket for this wealth-building event, especially considering we're expecting thousands in attendance. But today, you'll get a ticket – 100% free of charge.
BONUS: The House That Crypto Built: Q&A With James Altucher: Here, you'll receive a recording of a recent Q&A I had with my readers where they threw some of their most pressing and toughest questions at me – and I answered them off-the-cuff and on the spot.
Plus, there's one last thing…
I'm so confident Early-Stage Crypto Investor can change your financial destiny…
That's I'm willing to put my business on the line…
And offer you an industry-leading performance guarantee…
Which I'll go over now…
My 100% Satisfaction Guarantee:
12 Next Generation Crypto Recommendations
With 1,000% Profit Potential
Over the next year…
I promise to deliver 12 next generation crypto recommendations, each which 1,000% profit potential.
If for any reason, you don't feel I've delivered…
Then give my friendly and knowledgeable customer service team a call…
(They're located in Hunt Valley, Maryland and their phone number is (844) 731-0984)…
And they'll give you another year of my research, 100% free of charge.
No questions asked, no strings attached.
That's $5,000 worth of my most exclusive research – on the house.
(NOTE: This 12-recommendation guarantee is available for yearly subscribers ONLY.)
And when you add up the total value of this offer…
That is…
Your access my Silicon Valley and Wall Street connections…
Your access to my successful crypto investing track record…
1-2 next generation crypto recommendations per month…
The urgent buy alerts…
The jumpstart video series…
The weekly crypto masterminds…
The weekly crypto briefings…
The VIP ticket to the Crypto Wealth Symposium…
The 100% satisfaction guarantee…
A premium crypto research service like this could easily run for $25,000…
But today, you can grab it at a mere fraction…
For just $1,995.
Making this the best deal on or off Wall Street.
But you don't have time to waste…
Because there's only 500 spots available today.
And we've sent this invitation to more than 500,000 people…
Which means these 500 spots could vanish in a flash.
So I hope you're one of the lucky ones who get in.
All you have to do is fill out the simple order form.
It'll only take a minute.
Afterward, you'll get an email giving you immediate access to everything you've been promised here today.
The only question is…
When these next generation cryptos hit their big catalyst in the near future…
Will you be on the ground floor next to me?
Or will you be sitting on the sidelines?
Don't delay.
Act now to secure your spot.
And we'll see you on the other side.
To your wealth,

James Altucher
Editor, Altucher's Early-Stage Crypto Investor
Get Started Now
(Simply Fill Out The Form On This Page)